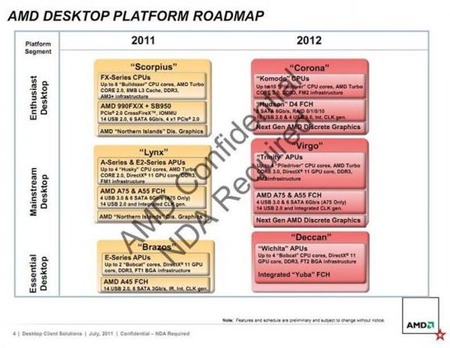 In arrivo per il 2012 i nuovi processori della classe desktop su architetture da 10 core.
AMD suggerisce le sue nuove architetture da dieci core per chi ha voglia, o la necessità, di utilizzare le nuove soluzioni architetturali in luogo di quelle da otto core. In effetti, il diretto concorrente di Intel intende suggerire per il nuovo anno le sue serie Komodo: queste nuove soluzioni rappresentano le nuove opportunità della serie FX (Zambezi).
I nuovi processori si basano su processo costruttivo da 32 nm con package FM2 con dieci core con architettura Piledriver, ossia la nuova generazione della serie Bulldozer, pieno supporto della tecnologia Turbo Core, controller di memoria del tipo DDR3 integrato.
AMD ha fatto presente che le nuove CPU  Komodo saranno prodotte  a 32nm e faranno parte della piattaforma 'Corona' insieme al chipset D4 Hudson con supporto nativo a  quattro porte USB 3.0 con otto porte SATA da 6.0 Gb/s. Oltre Komodo, la roadmap trapelata elenca anche le APU AMD della serie Trinity e Wichita su processo costruttivo, rispettivamente, a 32 e 28 nm per il mercato mainstream ed entry-level desktop. Sempre secondo alcune indiscrezioni e rafforzate da alcune osservazioni si nota che le serie Trinity andrà a sostituire i processori della serie Llano dell'attuale serie A, mentre Wichita rappresenta la possibile evoluzione tecnologica della serie E, ovvero Zacate.
La comunicazione ufficiale da parte di AMD non lascia ombre sulla nuova roadmap:
– AMD Public Roadmap Updates
– AMD also announced several notable updates to its 2012 roadmaps including:
"Krishna" and "Wichita": Two and four-core 28nm APUs based on the next-generation sub-one watt "Bobcat" CPU cores and a Directx 11-capable GPU, designed for the tablet, notebook, HD netbook, anddesktop form-factors
"Trinity": a 32nm APU based on AMD's next-generation "Bulldozer" CPU cores and a DirectX 11-capable GPU, designed for mainstream and high-performance desktops and notebooks;
"Komodo": a 32nm CPU featuring up to 10 AMD "Bulldozer" CPU cores designed for high-performance and enthusiast desktops;
"Terramar" and "Sepang": Two new 32nm CPUs for the server market based on AMD's "Bulldozer" CPU core. Targeted for the enterprise, mainstream market "Terramar" will scale up to 20 cores while "Sepang" is designed for the cost-optimized, energy efficient market and will scale up to 10 CPU cores.